UGC NET Management Coaching in Chandigarh
UGC NET Coaching in Chandigarh: Statesman Academy is known as best UGC NET coaching institute that provide best UGC NET Management COACHING IN CHANDIGARH. Our objective is to prepare candidate to score best in this UGC NET exam.
STATESMAN ACADEMY relies on hard work and sincere efforts on the part of teachers as well as on the part of students. We work with honesty, integrity and transparency to accomplish best outcomes in ugc net management coaching.
UGC NET Coaching in chandigarh is best catered by Statesman Academy. Being a specialized coaching institute for UGC NET Coaching in Chandigarh, best UGC NET management coaching is provided here.
Students who are sincere with their UGC NET Preparation can easily qualify UGC NET in their very first attempt. For this, consistancy in UGC NET studies is the only thing required from students perspectuve. We need students who are very dedicated for their UGC NET Preparation, and are ready for hard work and smart work.
For UGC NET preparation Regular revision and test practice is the key to success. All the elements  that will be delivered in our UGC NET Coaching in Chandigarh will be more than sufficient to make you succeed.
For more than 7 years, STATESMAN ACADEMY, has been indomitably and persistently producing top ranks in the field of UGC NET Management COACHING in chandigarh. This endeavour is still in progress with every successive year with more top positions at all India levels.
All the credit for this immense success in UGCNET goes to our dedicated faculty who with their painstaking efforts guides our students with utmost care and commitment.
---

Suggested Readings:



Once Again Best UGC-NET  Feb 2023 Result in Region.
More Than 15 Students Qualified in UGC-NET Commerce Feb 2023.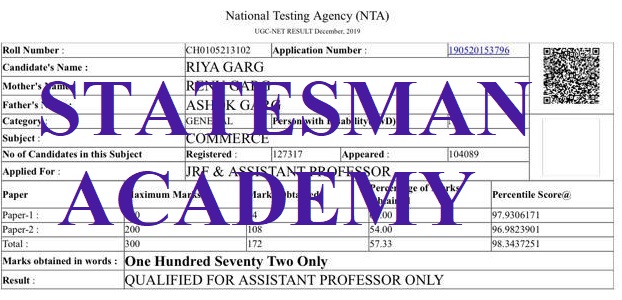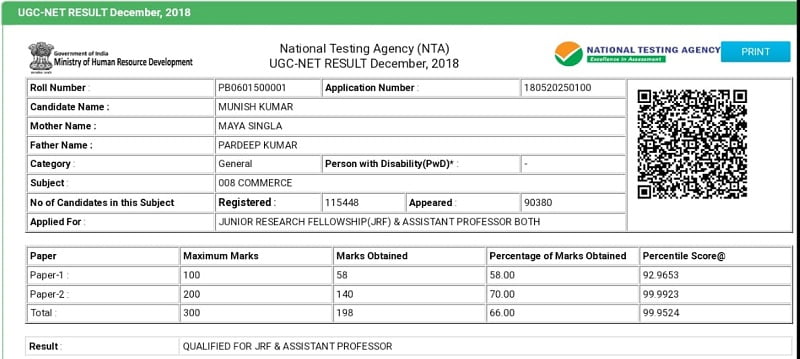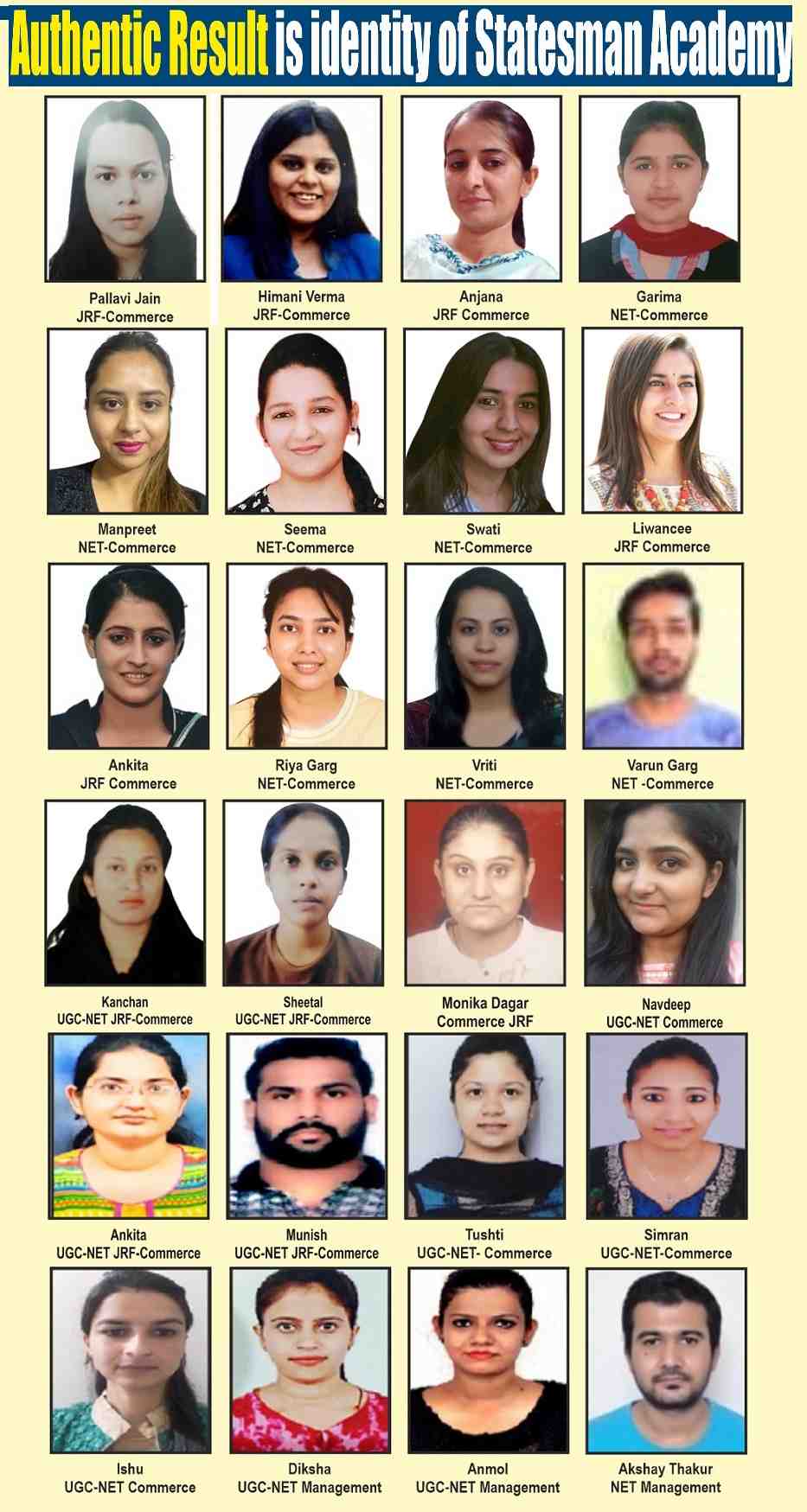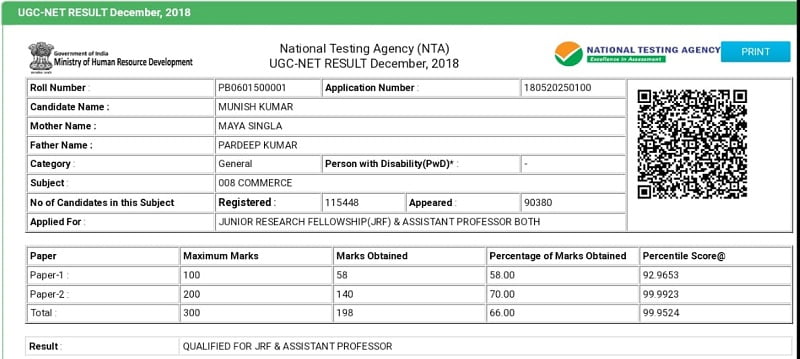 ---
UGC NET Management Coaching Methodology
Our UGC NET Coaching methodology strictly focus on the difficulties faced by aspirants in the preparation of this exam such as lack of proper study material, ignorance of crucial aspects, inadequate Test practices and lengthy syllabus.
Our unique testing scheme designed according to the latest developments in respective subjects. Moreover we put a prime emphasis on time management skills, as many subjects have vast syllabus and students are left with limited time for the preparation of the exam.
Once the UGC NET syllabus of specific subject is complete, revision of that topic is done to make it sure that the student is fully confident for the exam and during the exam so that he can perform efficiently.
Difficult UGC NET topics are covered multiple times before taking the UGC NET exam so that student do not loose marks in these areas. Difficult topics are the difference making part of the exam between an average student and well prepared student.
For UGC NET subjects, daily 3 hour class is conducted. One hour for Paper-1, which is common for all students, and two hour class for specific subject. After the completion of the topic, practice worksheet are solved.
Regular weekly tests help to evaluate and improve the preparation for the UGC NET exam.
UGC NET Management Marks Cut-off Dec 2020
UGC NET Schedule Of  NTA/NET December 2023 Management
The UGC-NET is conducted in the months of June and December i.e. twice in a year Notification about the schedule of the test is published in March/September in Employment News.
UGC NET Coaching Fee Structure for UGC-NET  Dec
Dec 2023 
Special Concession (20%) for MBA 1st Year Students and 10% for MBA Final Year students.  (For Limited Period Only)
UGC NET Coaching Payment Structure
There are two options available for payment that are:
Option 1 – Total fee payable at the commencement of the program
Option 2 – Installments (optional)
Payable at the commencement of the program – Installment 1st
After 15 days of the Registration – Installment 2nd
UGC NET Management: NTA-UGC-NET Dec 2023 Pattern and Schedule:
i) UGC NET Mode of Examination: The Examination shall only be conducted as Computer Based Test (CBT).
ii) UGC NET Pattern:

UGC-NET PROCEDURE & CRITERIA FOR DECLARATION OF RESULT:
The following steps will be followed for the Result declaration :
Step I: The number of candidates to be qualified (total slots or Eligibility for Assistant Professor) shall be equal to 6% of the candidates who appeared in both the papers of NET.
Step II: The total slots shall be allocated to different categories as per the reservation policy of the Government of India.
Step III: In order to be considered for 'both JRF and Eligibility for Assistant Professor and for 'Assistant Professor Only', the candidate must have appeared in both the papers and secured at least 40% aggregate marks in both the papers taken together for General (Unreserved) category candidates and at least 35% aggregate marks in both the papers taken together for all candidates belonging to the reserved categories (viz., SC, ST, OBC (belonging to Non-Creamy Layer, PwD, and Transgender).
Step IV: The number of candidates to be declared qualified in any subject for a particular category is derived as per the prescribed methodology.
Step V: All candidates who had applied for 'Eligibility for JRF & Eligibility for Assistant Professor Both' out of the total number of qualified candidates derived as per Step IV, shall constitute the
consideration zone for JRF.
Step VI: The total number of slots available for awarding JRF is allocated among different categories as per the reservation policy of the Government of India.
UGC-NET Eligibility Criteria
Candidates with 55% marks in Master's Degree from universities/institutions recognized by UGC. The Other Backward Classes(OBC) belonging to non-creamy layer/Scheduled Caste(SC)/Scheduled Tribe(ST)/ persons with disability(PWD) category candidates who have secured at least 50% marks in Master's degree are eligible for this Test.
Candidates whose result is still awaited may also apply, but, such candidates shall be considered eligible for the award of Junior Research Fellowship/eligibility for Assistant professor only after passing their Master's Degree examination. So, these candidates must complete their Master's degree examination within two years of the UGC NET result declaration.
The Ph.D. degree holders having done their Master's examination by 19th September 1991shall be eligible for a relaxation of 5% in total marks for appearing in UGC NET.
Candidates should appear in the subject of their post-graduation only.
UGC-NET Age Limit And Relaxation
Junior Research Fellowship: Maximum: 30 years. A relaxation up to 5 years is given to women applicants and OBC SC/ST/PWD categories candidates. Three years of relaxation is given to the candidates with L.L.M. Degree. Total age relaxation on any ground(s) shall not exceed five years under any circumstances.
UGC-NET EXEMPTION (ELIGIBILITY FOR ASSISTANT PROFESSOR)
NET/SLET/SET qualified candidates.
Candidates, who are or have been awarded a Ph. D. Degree in accordance with the University Grants Commission (Minimum Standards and Procedure for Award of the Ph. D. Degree) Regulations, 2009, shall be exempted from the requirement of the minimum eligibility condition of NET/SELT/SET for recruitment and appointment of Assistant Professor or equivalent positions in Universities.
JUNIOR RESEARCH FELLOWSHIP: Candidates qualifying for the award of Junior Research fellowship will be eligible to receive fellowship of UGC under various schemes with a validity of two years from the date of issuance of JRF Award letter.
UGC-NET Subjects Offered by Statesman Academy:
We offer specialized UGC NET coaching in the following subjects:-
English
Computer Sciences
Life Sciences
Chemical Sciences
Physical Sciences
Commerce
Management
Why Join Our Institute for UGC NET Management Coaching in Chandigarh;
Powered by eligible and experienced faculty
Special doubt sessions for difficult topics
Innovative approach to solve problem quickly and correctly
Comprehensive coverage of complete syllabus
Extensive, updated and quality study material
Highest success rate in the region
Library facility
Special guest lectures by eminent Academicians
Weekend classes for working professionals
Fully air conditioned and Wi-Fi premises
Comfortable batch timing
Complete coverage and revision of syllabus
Result oriented teaching with small batch sizes


---
Contact:
Statesman Academy,
SCO: 54-55, 2nd Floor,
Sector 34 A, Chandigarh.
9780040991, 9780097554
Save
Save